How the "Grocerant" is Eating the Canadian Restaurant Business' Lunch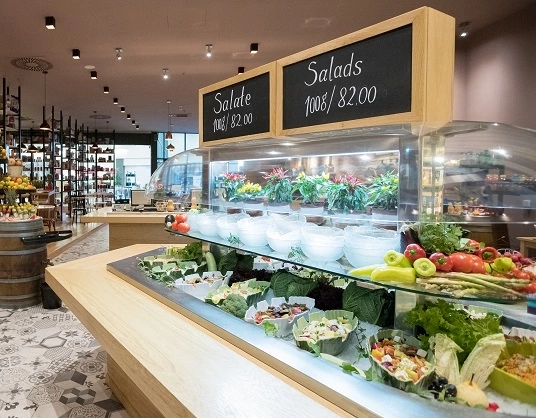 The Canadian restaurant and dining industry is seeing the rise of a major competitor in the form of "grocerants", which are popping up in our favourite supermarkets all around the country. The grocerant is a unique twist on the modern dine-in experience, giving customers many of the same healthy, high quality food options that they would have at a traditional restaurant. As with the rise of any new food trend, the grocerant brings with it a variety of food safety concerns.
Why is the grocery/restaurant concept so attractive to Canadians?
The modern working lifestyle has become busier and busier as technology has advanced, demanding more attention from employees rather than making life easier. Between working, taking care of kids, and getting some much needed recreational time somewhere in between, many modern Canadians simply don't have the time to cook a homemade meal every night or sit in a restaurant for long periods of time. The emphasis on healthier lifestyles has also made stopping at the local burger joint a less than attractive option for some, leaving Canadians with fewer options.
The grocerant has presented itself as a perfect solution to these time-sensitive issues - consumers are now able to stop at their local grocery store for a quick, healthy bite to eat and maybe even be able to get some shopping done while they're at it. The need for convenience and speed combined with fresh, high quality meals has been perfectly realized by Canadian grocerants, who have carefully blended the restaurant and grocery shopping experiences, allowing for quicker, healthier options for the entire family.
Grocerant food safety concerns
As with any other professional foodservice establishment, the concern for food safety in a grocerant is high. Grocerants generally feature a variety of serving options, ranging from traditional salad bars to deli counters and pre-prepared ready-to-eat meals that can be taken on-the-go.
As with many restaurant buffets, these self-serve and salad bar style options present a number of food safety risks, especially in regards to time and temperature. Having food be out and exposed for long periods of time greatly increases the risks of bacterial growth, creating the potential for foodborne illness. This can be curbed at grocerants by constantly rotating foods after two hours, where it should then be disposed of and replaced with freshly prepared food.
Temperature is another major food safety factor in grocerants, as keeping foods consistently at the correct hot or cold temperatures can be a challenge, even for experienced foodservice professionals. Keeping hot dishes consistently hot should be done through heat lamps and warmers, with food being switched out after two hours. Cold food options like salads or those containing eggs need to be kept consistently chilled, or they run the risk major bacterial growth. Sneeze guards should also be employed wherever appropriate, as the germs, bacteria, and hair from customers can easily be spread to food, which can present a variety of problems.
The continued need for food safety training
Food safety will always be a major concern in foodservice establishments, no matter what form they take or clientele they serve. A workforce that is well-trained, informed, and experienced in food safety will greatly reduce the risk of foodborne illness spreading to customers, and maintain the great reputation held by your establishment. In-class and online food safety training offered by organizations like Food Safety Market is the best way to ensure that your foodservice staff are well-trained and informed about food safety practices, guidelines, and processes, creating a healthier work environment and happier customers that are sure to come back to your establishment again and again.