Yukon territory
Food Safety Regulations
Yukon Food Safety Laws
Yukon food safety legislation states that all restaurants, food service establishments and food businesses must meet minimum standards outlined by regulations in order to ensure that all food produced and served is safe and fit for human consumption. These regulations instruct food operators on how to ensure correct food handling and storage, cleaning and sanitation of equipment and surfaces, and provide health and hygiene guidelines which must be followed by all food handlers.
Failure to comply with food safety regulations in Yukon can result in hefty fines issued by local health inspectors and health authorities, as well as suspension of licences, closure of establishments, and major blows to both professional and personal reputations.
Food safety regulations in Yukon
In addition to following Federal food safety and public health regulations, restaurants and food businesses in Yukon must follow territorial laws and regulations. Yukon has drafted three main pieces of food safety legislation, including:
By following these regulations, Yukon food businesses can ensure that all food produced and served to the public is safe, sanitary and fit for human consumption. Compliance also ensures that future health inspections can be passed and penalties avoided, allowing businesses to ensure long term business continuity and avoid potentially devastating food contamination or foodborne illness incidents.
Food Retail and Food Services Code
The Food Retail and Food Services Code is Yukon's primary food safety regulation outlining the requirements of food establishment operators, from the construction of the food premises and maintenance and sanitation of equipment and surfaces to food handling practices and personnel guidelines.
The Code requires that all aspects of food premises be kept clean and in good repair, with general necessities which include appropriate lighting and ventilation, adequate and safe food storage areas away from possible contaminants, a reliable water and steam supply, approved sewage disposal and plumbing systems, hand wash stations, and toilet facilities and dressing areas for employees. It also lays out basic requirements for mobile food premises, food trucks, temporary food services, farmers' markets, and vending machines.
In terms of the control of food hazards, food premises operators are responsible for ensuring and promoting a food safety culture in the establishment. Operators are to implement food safety management systems designed to ensure that potential hazards in the food premises are controlled and risk is mitigated. Operators must keep records relating to the implementation of these systems for at least three months, or as long as it is required by the regulatory authority.
Food products can only be sourced from approved sources, should be correctly packaged and labelled for easy identification. All food products should be held at an appropriate internal temperature which is verified by an appropriate measuring device, with operators responsible for ensuring proper refrigeration, freezing, hot holding, cooling and thawing. The Code lays out how operators are to prevent contamination using methods which include denying access to the public, minimizing cross contamination risks, cleaning and sanitizing food surfaces and utensils, and not re-serving food or re-offering food for sale.
The Code outlines basic requirements for temperature control, storage procedures, transportation of food, pest control, waste management and the maintenance and sanitation of equipment and food contact surfaces. It states that food premises must have a written sanitation program in place which must outline parameters to be controlled to ensure food safety, feature sanitation procedures for all equipment, utensils and refrigeration units which may have an impact on food safety, and be able to document that the program is monitored and effective.
Under the Code, employees must keep a high level of personal hygiene on premises and ensure that all food products are handled in a hygienic manner at all times. Personnel are required to regularly wash their hands before and after commencing work, wear cleaning clothing and hair/beard nets when appropriate, and cannot smoke while handling food, utensils or contact surfaces.
Operators are required to ensure that personnel coming into contact with food are free from symptoms and signs of illness or communicable disease which could be transmitted to food, and food handlers are required to disclose illness to operators, who are to ensure no contact is made with food, equipment or utensils until cleared by a physician.
Yukon Public Health and Safety Act
The Yukon Public Health and Safety Act states that all individuals, corporations and the government have a responsibility to act in the interest of public health and safety. The Act gives powers to inspectors which include the ability to enter a premises which is open to the public at any time that the premises are open, or at any time the health officer has reasonable grounds to believe a hazard to public health may exist.
Upon discovery of a health hazard, it is the duty of all health officers to report it to the Department of Health and Social Services. Health officers have the power to seize and detain hazardous food products or anything which may pose as a health hazard to the public, can order it to be destroyed and mandatory recall orders to be given, and can order the closure of businesses and issue fines or official warnings upon discovery of violations.
Donation of Food Act
The Donation of Food Act is a short document which states that any person who donates food or distributes donated food isn't liable for damages which may result from injuries or death caused by the consumption of that donated food, unless said food was adulterated or otherwise unfit for human consumption or the person intended to injure or cause death to the person who consumed the food or acted with reckless disregard for the safety of others.
It goes on to clear directors, officers, agents, employees and volunteers of corporations or organizations which donates food or distributes donated food from liability in the event of injury or death, with the same exceptions made for unaffiliated people who donate or distribute donated food items. The Act closes by stating that the legislation does not apply to those who may be selling donated food for profit.
Yukon food handler certification requirements
As stated within the Food Retail and Food Services Code of Yukon, employees who come directly into contact with food should be trained or have knowledge of proper food hygiene to a level appropriate to the duties they perform. Some jurisdictions may require that food hygiene certification be mandatory for managers and supervisors of food establishments, or for designated personnel in their absence.
Operators should promote food safety education through ongoing training through various means which may include on-the-job training, food safety certification training, or additional instruction.
While there is no explicit requirement for food operators to have food handler certification or ensure that food handlers are certified in their absence, most of Canada's provinces and territories have mandated it and Yukon could do so at any time. Ensuring that food handlers are certified drastically reduces the chances of food contamination and foodborne illness events, allowing your personnel to prepare and handle food safely and more confidently.
For Yukon restaurants and food service establishments looking to supply their employees with high quality food safety training, look no further than Managing Food Safety, our online food handler certification training program. Managing Food Safety features visual elements which transcend language barriers, industry-relevant case studies and scenarios, interactive and customizable elements, and a flexible approach which allows learners to complete the program at their leisure.
To find out more about how FoodSafetyMarket can make your business compliant with the provincial regulations, learn about our training solutions for businesses and individual food handlers.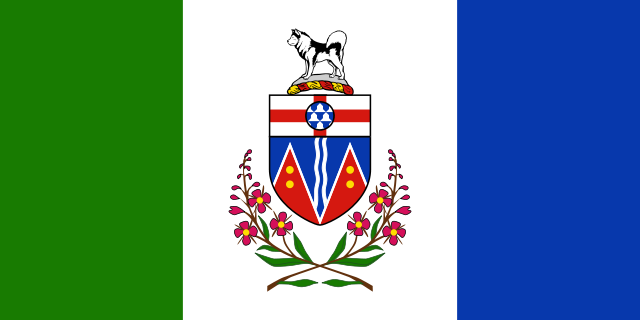 yukon territory:

Food safety Legislation