If you want to build a successful foodservice career in Canada, you need the right credentials. And that means getting your food handler certification.
Professional food safety training isn't just mandatory for anyone working with food, it's also a way to get noticed in this competitive sector - boosting your resume, demonstrating your commitment, and broadening your skillset. Becoming a certified food handler is the first step on your career journey, and an investment in your future goals.
If you're new to the industry, however, it can be intimidating to figure out the right training for you. Getting a food handler certificate in Canada is easy, but how do you know if you've got the right certificate, how long does it last, and what exactly does safe food handling mean?
You've got questions, our food safety experts have the answers. Read on for our complete guide to food handler certification in which we break down exactly what food handlers need to stay compliant, and demystify the food handler certificate system.
FOOD HANDLER FAQS - EVERYTHING YOU NEED TO KNOW ABOUT FOOD HANDLER CERTIFICATION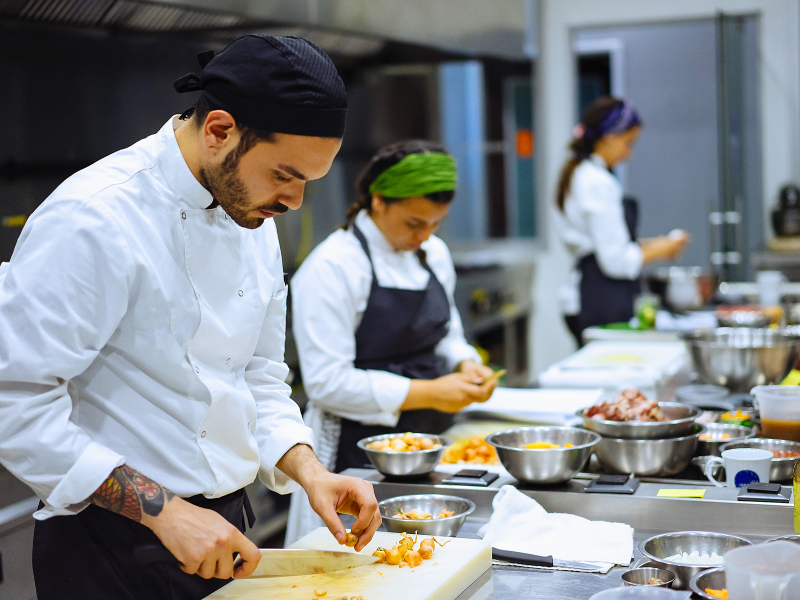 How long does it take to get a food handling certificate?
It depends on the course and your schedule! Our nationally-recognized food handler certification, Managing Food Safety, is delivered entirely online and self-directed so you can move through it at your own pace. The course consists of 16 training modules and takes around 8 hours to complete, including the final exam.
How long does a food handler certificate last?
Like most food handler certifications, the Managing Food Safety certificate lasts 5 years from date of issue. This industry standard can vary however so it's important to double check.
How do I renew my food handling certificate?
You'll have to retake the course when you want to renew your food handling certificate. This is to ensure food handlers keep their skills sharp and are up to date with current food safety standards. The Managing Food Safety course is regularly revised to incorporate the most relevant information, in line with current federal and provincial regulations.
How to get a food handler certificate in Canada?
There are lots of food safety training courses available, but be selective when choosing your provider. Many companies will offer quick and easy certification but if it sounds too good to be true, it usually is. Look for a provider with an established reputation in the Canadian market, experience in the sector, and quality training materials.
FoodSafetyMarket has been helping Canadian food handlers get their certification for almost 30 years. There's a reason our course has a 98% pass rate - we offer training developed by the same food safety experts who helped write the standards still in place today. Our online food handler certification course is known as the best in the business, used not only by individual food handlers but also national franchises including Wendy's, Swiss Chalet, and Pizza Pizza to train their staff.
SAFE FOOD HANDLING: WHEN DO YOU NEED A FOOD HANDLER CERTIFICATE?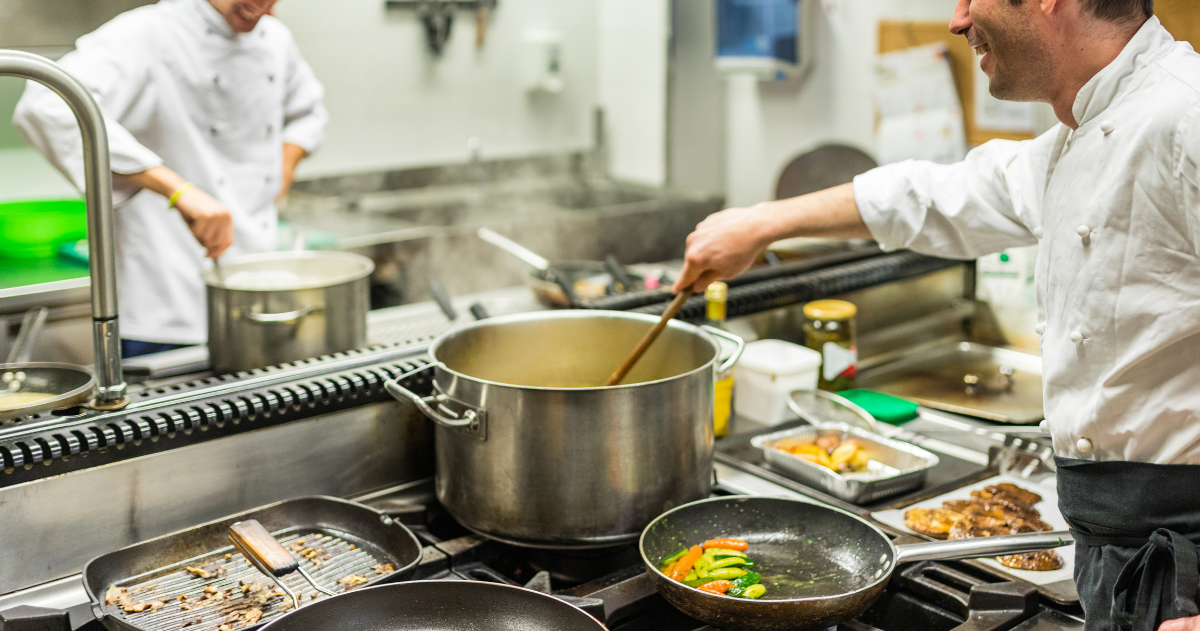 Most people know you need safety training to work in a foodservice business like a restaurant or grocery store, but it's not always so obvious when your job or career isn't directly food-related.
A good rule of thumb is to assume you need a food handler certificate any time you're preparing or serving food. This would include:
PSWs or other nursing occupations where you prepare or deliver meals
Volunteers who handle food at food-based organizations such as meals on wheels or food banks
Those who assist at community events where food is served e.g farmer's markets, church dinners, club potlucks
Staff who work in dining facilities at institutions such as schools or colleges
Catering companies


PROVINCIAL AND FEDERAL REGULATIONS RELATING TO FOOD HANDLER CERTIFICATION
In Canada, food safety can get complicated with both federal and provincial regulations relating to safe food handling. We make it easy for our students - all our online food handler certification courses and training materials meet and exceed the requirements of federal, provincial, & municipal regulations.
In fact, our Managing Food Safety course is localized to your area so if you take your course in Toronto, you'll get food safety information specific to Ontario and if you're studying in Winnipeg, you'll get information about Manitoba regulations.
Federal food safety requirements
At the national level, there's just one piece of legislation affecting food handlers - the Safe Food for Canadians Regulations which came into force in 2019.
These cover how to handle dairy products and eggs, fresh fruit and vegetables, licensing and arbitration, and more. Foodservice businesses and food handlers subject to these regulations are responsible for ensuring that all food is safely prepared, handled, and stored so it's a good idea to familiarize yourself with these regulations if you're considering a food handler career.
Provincial food safety requirements
While they all follow the same basic principles, every province has its own rules around food safety:
Ontario
The Ontario Food Premises Regulation requires that all food service businesses must have at least one certified food handler on premises during every operating hour. Failure to have a certified food handler on premises can result in fines from the public health inspector. Learn more about Ontario's food safety regulations here.
Quebec
The Food Products Act is Quebec's only major food safety regulation The Act states that the person responsible for the hygiene and safety of food products in a business must also ensure that at least one employee holding valid food handler training certification or food establishment manager training certification must be on premises during all operating hours. Learn more about Quebec's food safety regulations here.
British Columbia
As with other provinces, all restaurants in British Columbia require an employee with food handler certification on premises during all operating hours. Learn more about British Columbia's food safety regulations here.
Alberta
The Alberta Food Regulation establishes the need for all restaurants and other food service businesses to have at least one employee with food safety certification, such as an Alberta food handler certificate, when six or more food handlers (including servers) are on premises.
In addition, all employees engaged in food operations and who have direct contact with food should receive training and education for food hygiene, and that all managers and supervisors and their designated replacements should receive mandatory educational programs based on the level of food safety risk in their establishment. Learn more about Alberta's food safety regulations here.
Manitoba
No person may operate a food service establishment in Manitoba without successfully completing the Certified Food Handler Training Program to get a Manitoba food handling certificate, and that when there are five or more food handlers on premises at any given time, at least one certified food handler must be present during all working hours. Learn more about Manitoba's food safety regulations here.
Saskatchewan
Like so many other provinces, Saskatchewan's food safety regulations require that all restaurants and food service establishments have at least one certified food handler on premises at all times. They also require that food operators ensure that employees are adequately trained to handle food safely, with a strong recommendation that food handlers are recertified every five years. Learn more about Saskatchewan's food safety regulations here.
New Brunswick
As of July 1st, 2012, the Food Premises Regulation requires that all Class 4 food premises in New Brunswick must ensure that at least one person with food handler certification is on premises at all times when food is being prepared. The Regulation also states that licensees operating a Class 4 food premises must ensure that managers hold a certificate confirming their completion of a food handler training program. Learn more about New Brunswick's food safety regulations here.
Nova Scotia
According to Nova Scotia's Food Safety Regulations, food operators must successfully complete a food hygiene training program and ensure that when they are absent from the establishment an employee with food hygiene training certification is present at all times. Those in contact with food must be trained or at the very least instructed in food hygiene to an appropriate level. Learn more about Nova Scotia's food safety regulations here.
PEI
As stated by the Prince Edward Island Food Premises Regulations, all food premises licence holders are required to successfully complete a food hygiene training program. When absent from the food premises, they must ensure at least one certified food handler is on premises when food is being prepared or processed. Food handlers are expected to renew their certification at least once every five years. Learn more about PEI's food safety regulations here.
Newfoundland
Food operators in Newfoundland must ensure that at least one certified food handler is on the premises during each hour it is in operation. Certification must be current and show successful completion of an approved food safety course. Learn more about Newfoundland's food safety regulations here.
Northwest Territories
All operators of permanent food establishments in the Northwest Territories must successfully complete a food safety program and ensure that at least one other certified food handler is present in the establishment during each of its operating hours. The food operator must also give employees training on safe and sanitary food handling. Learn more about NWT's food safety regulations here.
Yukon
According to the Food Retail and Food Services Code of Yukon, employees who come directly into contact with food should be trained or have knowledge of proper food hygiene to a level appropriate to the duties they perform. Learn more about Yukon's food safety regulations here.
Nunavut
There are no specific guidelines about food handler certification in the Nunavut Public Health Act, but food service establishments should ensure employees are prepared to safely handle food, mitigating the risk of food contamination and foodborne illness. Learn more about Nunavut's food safety regulations here.
ENTERPRISE FOOD HANDLER CERTIFICATION
FoodSafetyMarket works with foodservice businesses across the country to ensure their staff have the best food handler training in the industry. We make employee training easy with a Learning Management System that can be customized with each company's own branding and URL, providing enterprises with a custom learning portal from which staff can easily log in and take their food handler certification.
We're proud to work with some of Canada's largest operators, such as Wendy's and McDonald's to deliver targeted training that meets their high standards of quality control and hygiene.
Get Your Food Handler Certification From the Food Safety Experts
FoodSafetyMarket was one of the first companies to offer Canadian food handler certification, almost three decades ago. Since then, we've built a reputation for quality, reliability, and exceptional customer service.
When you learn with us, you're studying a course created by experts but accessible for everyone with engaging visuals, supporting training materials, and easy-to-digest lessons. Our online food handler certification course is also available in Punjabi, French, Arabic and Chinese so students can learn in their own language.

For more information about the Managing Food Safety (MFS) food handling certificate or any of our comprehensive food safety and work skills courses, visit our course catalog or get in touch with our team today!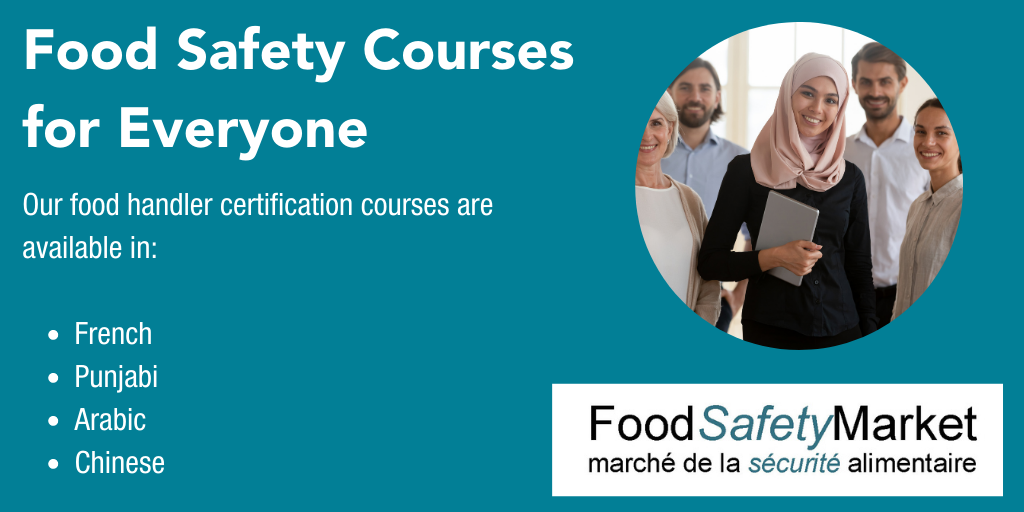 solutions for all types of organizations
We have been working for over 20 years to provide customized solutions for all types of businesses.